Time to Blossom!
¨The wilderness and the dry land shall be glad,
the desert shall rejoice and blossom like the crocus,
it shall blossom abundantly and rejoice with joy and singing…¨
How can one describe the bright, spiritual blossoming effect? It is rather an intense, yet incredible feeling, that is sometimes quite difficult to effectively put into words.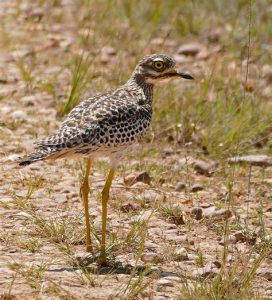 The Spotted Thick-Knee is chirping happily, just before dawn. All of sudden it becomes clear, of what spiritual blossoming entails… Childlike energy, high spirits, joy, love, peace and many more rejuvenating feelings. And then, as dawn breaks and the Helmeted Guineafowls whistle to the start of a bright new day, a broad smile crosses your face, and you jump out off bed. It is Spring! Seize the moment!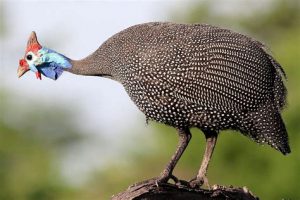 Spring came suddenly and brought an astonishing amount of new inspiration. Early mornings we were treated to the gentle breeze, carrying the sweetest of scents across the Kalahari. The hypnotizing fragrance was released by the incredible amount of Black Thorns that were blossoming all over the conservancy. A delicate little flower, that produced such a relaxing perfume. Inhale deeply, exhale and inhale again. Mmm… It is the incense of Deception Valley Lodge. These dainty flowers, must have been quite a delicacy, as the Kudus just couldn´t get enough of them.

Not only were the flora blossoming, but all the special animals, in their own unique way, decided to grab the opportunity to leave us breathless. It all started one beautiful afternoon. Braam, the founder of Deception Valley Lodge, was doing conservation work, when he suddenly spotted an exquisite female leopard feeding on a Steenbok. We prepared ourselves, and went back to the sighting. It was the perfect atmosphere on the way there. Wind blowing through your hair, the soon to be sunset, providing an intricate art piece and Cumulonimbus clouds towering over the wide-spread wilderness… Finally, we reached the place, however at first we didn´t see the female. Braam, being the incredibly brave man that he is, started tracking the Leopard. Suddenly, his face lit up. There was a cub with the female! This adorable cub was estimated about 6 months of age. At first he was not so sure about us, shyly peeking around his sneaky hiding place. Yet he was extremely curious of what we were. A little snarl, made us all smile and we fell completely in love. Believe me, love at first sight does exist!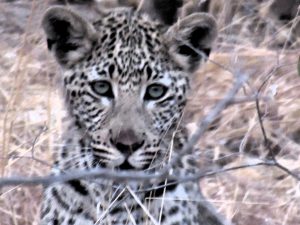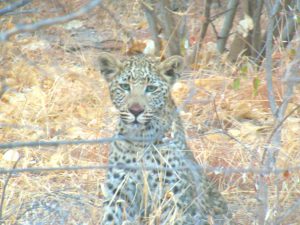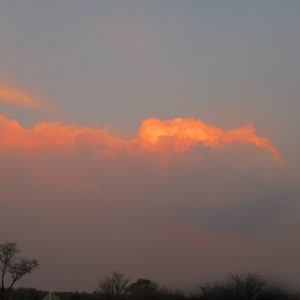 One particular evening, the weather was very pleasant to cook outside. We sat around the fire and were mesmerized by the Milky Way. Around the corner, appeared three rather spiky visitors. These were the famous Porcupines of Deception Valley Lodge. Usually, we are spoiled to frequently dine in the company of porcupines, but this night a major surprise awaited us. The Porcupines just started moving in between us, not being cautious at all. There was a youngster that is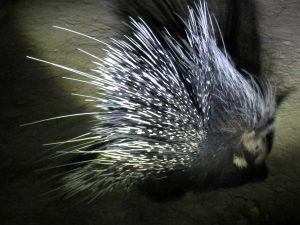 about 1.5 years old now, that completely stole the show. With him being so close, I decided to test the theory, of wild animals becoming used to you. It took a while, with slow, patient attempts, but eventually the patience provided me with an amazing and truly special gift. The little one allowed me to very briefly scratch its head. What is even more astonishing is that, this porcupine has been born and raised in the wild. Truly a young, blossoming personality.
The time for lifetime memories didn´t stop. It was only the introduction to a grand performance. While awaiting the first proper rains, we need to fill the waterholes everyday for the animals. This provides amazing opportunities to experience the wildlife at their best. Late one evening, Braam had to go and switch off the waterpump. He got an amazing sight. We have 3 new Lion cubs! We all knew some of the lionesses were heavily pregnant two months back, we were just not sure when they will give birth. Usually, the mother will hide the cubs for about 6 weeks, before introducing them to the pride. She is still very protective over these little, precious bundles of fluff, which is for good reason. That was the only sight we had so far of them, since she still hides them extremely well. Now, that was unexpected luck!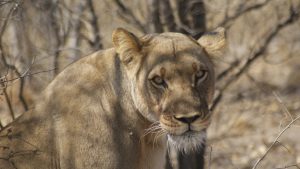 The same lioness, lately spends a lot of time on her own, especially in the northern sector of the conservancy. She must be keeping the cubs somewhere in that area. About 1 week back, I went to fill the waterhole for the animals. On my way there, I saw her in the road. Little did I know, this majestic animal and myself will share an experience out of this world, that I will treasure my entire life. I was standing a distance away from the vehicle while waiting for the waterhole to fill up. Out of the corner of my eye, I saw movement behind a large termite mound. Then the queen of the conservancy appeared. Whatever you do with a lion on foot, DO NOT RUN! I stood there and talked to her, making her aware of my presence. She was extremely relaxed and didn´t pay much attention to me. However, I watched her behaviour closely at all times. At one point, she stopped and looked at me, staring right through me. It was one of the most incredible wildlife experiences in my life! About a minute later she slowly, strolled off into the sunset, like only a true lady can do. After she was gone, I measured the distance between where I was standing, and where she passed. It was only a 9 meter gap, with not even a piece of grass between us. I was speechless!
Finally, the moment we have been waiting for arrived. The unique and beautiful Southern Cross and roar of the Kalahari Lion, guided the owners back home. Due to the Covid-19 Pandemic the owners of Deception Valley Lodge, Bart Kramer and Jamal Attari, weren´t able to return to Botswana for 7 months. After a long, tiring journey and a few weeks in quarantine, the Deception Family were reunited. We were ecstatic with joy! And what a welcome party they had. Black-backed Jackals were calling, the Lions were roaring majestically, and then later the Porcupines came to visit. A special VIP treatment was awaiting them, with a surprise visitor we haven´t seen for almost a year. The Small-Spotted Genet, that always visited the lodge, came to greet them from a distance!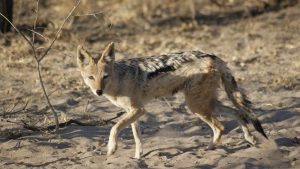 With Spring in full bloom, let us find the childlike happiness, hope and love. Remember, a flower cannot blossom without sunshine, and man cannot life without love. Robin Williams described it perfectly:
¨Spring is nature´s way of saying – LET´S PARTY!¨
Keep on blossoming…
Janie Swart
Lodge Manager