Team of Thunder and Lightning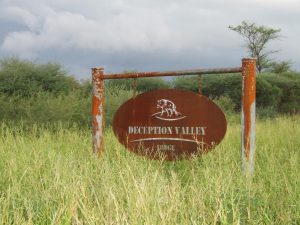 ¨Thunder is good, thunder is impressive;
but it is lightning that does the work…¨ – Mark Twain
Thick clouds start rolling in over Deception Valley Conservancy with the song of the Cape Turtle Dove, being the only sound breaking the mysterious silence. Somewhere, there is also a faint, melodious whistle of a content employee. But, then the strong, deep clouds give a glorious rumble. An African Thunderstorm, one of a kind, is approaching. All of a sudden there is an intense, powerful lightning strike that charges everyone with new power! Adrenaline is pumping, because everyone knows you need the loud storm to get the rain, that renew everything!!
The renovations at Deception Valley Lodge are happening at lightning speed. Teamwork is truly impressive and it is an honor and privilege to be part of it. The intensity of dedication, hard work and team spirit is absolutely unbelievable and provides inspiration to the utmost. Everywhere you hear grinders, table saws, sanders and cement mixers. Not a sound you would affiliate with the peaceful silence of nature, but rather a noisy thunderstorm. However, we know the end result is going to be truly breathtaking!
During the middle of February it was still very hot in the Kalahari. The men were working on the roofs and in the sun the whole day, and their biggest treat was a cold shower and refreshing drink during lunch time. There were loads of sweat and even the occasional blood, when a blade of grass or a hammer decided to be stubborn. But with Bart, Braam and Jamal as the legends, with true Kalahari Spirit in their hearts, who will ever loose motivation? They are supervising the entire project and no-one can do it better!!! THE HEROES OF DECEPTION!!
Friends were deeply affected by the team spirit. It is said, that once you fall in love with the Kalahari , you will always return and help wherever you can. Two of our friends, who are already been part of the ¨Deception Family¨ for a while, came to assist with the renovations as their holiday. That, is what I call dedication, support and love!! Therefore, we would like to take this opportunity to sincerely thank Ad and Ilonka van Stiphout. They are amazing!!! Not only did Ilonka provide us with breathtaking photographs of the wildlife, but she also assisted Ad in tiling the storeroom and new laundry. Off course we are not only improving the lodge area, but also the ¨Behind the scenes area¨ to improve working conditions for our most valuable employees.
At the main building area, Chino and his team are almost finished with re-thatching the entire roof. Sibanda, with his jolly team members, finished building the boma, and is currently busy building the gym, spa and new curio shop. The joyful spirit of all these guys are so contagious, that every time you walk past them, you just start smiling. They all work so hard, with a constant surge of energy, that it is easy to imagine that they could be superhuman. Senamolela, uses his artistic plastering skills in finishing up the new swimming pool, which is unique. Just imagine, cooling of while watching the numerous game species coming to drink water. The Zebras, Blue-wildebeest and Warthogs with their cheeky youngsters, have already started rehearsing to provide you with a show of a lifetime!!!
After all the rain, to date about 330mm, the veld is a blanket of lush, green grass. There is a saying that sometimes, the grass is greener on the other side. A few members of Impala from outside the conservancy, took this saying to heart. The young males decided to make Deception Valley their new home, with very good reason of course. We cannot wait till next season when these youngsters start competing for their own territories with females, and then we will have the cutest, most delicate baby impalas!!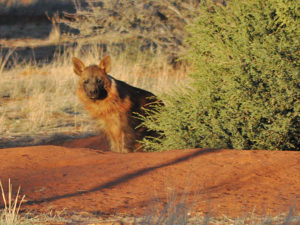 Two very rare, unexpected visitors also made their appearance during the last week. Everyone were sleeping soundly after the days hard work. Some slept through it, but to the ones that woke up, it was rather intimidating, but yet amazing. Around 2am one morning, we got woken up by a terrifying sound. It sounded like something that has been caught by a leopard or something similar and making its final, desperate calls. At first, this seemed like the only reliable explanation. We tried to look with torches if we could see the culprit, but were too careful to venture away from our safe havens into the dark night. The next morning, after investigating the tracks and signs, it became evident that it were two Brown Hyenas that met each another on the walkways, and became quite vocal. Normally Brown Hyenas are very shy, solitary and quiet creatures in comparison to the Spotted Hyena. So, it is still a mystery whether their extreme vocal behaviour was that of friend or foe.
All work and no play makes Jack a dull boy! The same is true for us. Now and then we decide to take just some time to ourselves, away from the building and noise, to enjoy and treasure our surroundings. The true reason we live here is, of course, nature with its untamed beauty and serenity. However, if you want to have enjoyment in the African bush, you must we willing to be adventurous as well.
One Sunday, we decided to go on a day trip into the veld, for animal viewing and a lovely picnic. It was wonderful, but the Kalahari decided to have its own bit of fun with us. After all the blessed rains, some of the areas, can be quite muddy and slippery. We were still watching some lovely Gemsbok in a slow passing by, when the muddy terrain presented us with a challenge. There was no way out, we were solidly stuck!! With no trees nearby, the winch wouldn´t have worked. Luckily, Bart has toured all over Africa, and is a savior in these situations. Teamwork was the only way we could get out. The men dug a Tyre into the soil and attached the winch to that. It is hard to believe that it will work, but it did!! We all stood on the Tyre so that it can stay in the ground and we managed to get the vehicle out. Some of us got rather muddy in the process, but that is the true fun part, and memories that will always be treasured around a campfire. Off course the victory was celebrated with an ice cold beer!                                                                                                                                          
Another Thunder cloud with promising rain is rolling in. Often, the occurrences of nature can give us valuable life lessons, we must just ¨listen¨. An African Thunderstorm is the perfect example. It shows us that success is failure turned inside out, represented by the silver tint of the dark clouds. You can never tell how close you are, it may be near when it seems far. So, when the lightning hits you hard, stick to the fight, because it is when things seem the hardest that you must not quit. As after the thunder and lighting you will experience the green growth and renewed joy of SUCCESS!!
Embrace the Thunder and Lighting, it is just the start!!
Janie Swart
Lodge Manager