For the love of Deception…
¨From earth's furthest corner
To the closest leaves
Love glues the gap between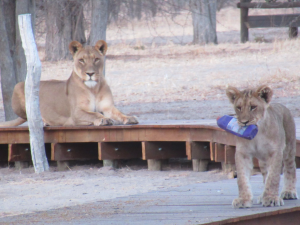 Two hearts upon a branch…¨ – Eyan Desir (Commitment)
Love, dedication and true commitment are what were spread all over Deception Valley Lodge the past few weeks. It was definitely a glorious time that we will forever cherish and remember. Cuteness overload was the beginning of it all. The lion cubs, although naughty, were an absolute treat!!! They must have a profound love for the lodge and reserve, as they are such keen little helpers!! One morning, when Knowledge was preparing coffee for our guests, he noticed the cubs to the right of the lodge. They got hold of a cleaning material bucket, and started assisting cleaning. First, it were a broom and cloth, then several materials like Windolene, Dosmestos and even Teak Oil. The glass doors of the empty chalet, were even cleaned by them, although not a successful job, since there were paw marks and nose marks all over.
Once they were satisfied with their work, they decided to move on to inspect the new walkways. They must love it, since they are lying on it like the royalty that they are. After that, they went to investigate the renovations. They made use of the building gloves, sniffed the wiring and got hold of an old toilet brush. Their hard work did not end on this day. A week later they decided that the men also needed some help in the workshop, as well as assistance in the laundry was required. Some of the items that couldn't withstand the dedication of the cubs were welding rods, a box of washing powder, a towel which remnants were found far spread and several containers. They even got hold of some tools from the contractors and a lantern from the new walkways. A valuable lesson was learnt…. that one must rather lock away your tools and cleaning materials where curious lion cubs won´t get hold of it!!
Even though our guests could not have dinner under the stars the past few weeks, due to the lions´ proximity, they were still treated to several magnificent shows during dinner time. A huge surprise of Leopard and Aardvark at the watering hole, kept them a while from their dinner. Other evenings it were the elephants that came to drink and the lion cubs interrupting the porcupines´ dinner again. The one cub, almost rolled into the porcupineś quills while he was playing with his siblings. He got quite a fright and decided to go play somewhere safer.
The center of this newsletter, is an event we were very honoured of hosting. One of our guests,decided to choose Deception Valley Lodge to propose!!! Everyone was so excited to make this an unforgettable and unique day. The groom to be, Bertin, organized everything between us and Lelobu Safaris in a hush, hush manner. His fiancee, Natalie, didn't expect a thing. The afternoon of the special day, Knowledge took them in a private vehicle, first to see a magnificent lion sighting and then to one of the most beautiful spots overlooking the valley. The spot is called the Wedding Spot, which was the most suitable for this occasion. While the glowing, red, setting sun painted the perfect romantic skies, he went down on his knee. However, this was not your average proposal. Due to the uniqueness of the Bushman culture in the Kalahari, he decided to do it in the traditional way the Bushman proved their love.
We provided him with the ¨love bow and arrow¨, which is a small bag which contains a miniature bow and arrow. He had to shoot her with this tiny bow and arrow, almost like ¨Cupid¨. He then went down on his knee and asked the question in Naru – the bushman language. Our guide and tracker, constantly repeated the phrase on drive, so that he won´t forget it. Natalie, must have thought they were just chatting to each another in the local language. And then the moment everyone was waiting for!!! She said YES!!! We wish them the most beautiful journey ahead and want to thank them that they included us in this extraordinary moment.
Once they were back at the lodge, not only the staff, but even the animals came to congratulate them, at their romantic dinner. The Lions, Elephants, Porcupines and a personalised congrats from our resident Small-Spotted Genet had turned this perfect day into an African Fairy tale!!
There is a constant commitment and dedication to make Deception Valley Lodge an ecofriendly lodge. If you remember correctly, we recently started off with abandoning plastic bottles. Our second phase, in this project,is also up and running at the moment. We just installed ¨A state of the art¨ solar system which will allow us to run the lodge and all equipment more efficiently on only solar power. No more generators!!! We would like to take this opportunity, to thank Rudy Kleynhans and his team from Sunlite 4 Life, for all the long and hot hours of work, that were put in to make this dream come true!!
We would also like to express our sincerest gratitude and love to our guests. Due to all of your lovely reviews, we are thrilled to announce, that we received the 2019 Tripadvisor Certificate of Excellence and Holiday Check. Also, a major thank you to all of the Deception Team. Without our dedicated staff members, we will never be able to achieve such rewards. With love, dedication and commitment we strive to keep the highest standards!!!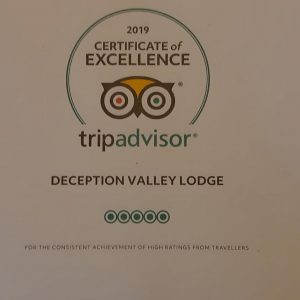 The whole of Botswana has one wish at the moment. That is for the rains to come!! The past week it has been threatening. The glorious sounds of thunder clouds rolling in and the powerful sight of the lightning strikes were to die for. Unfortunately, the little droplets have only been teasing us. We are very hopeful that the rains will come soon!! There was a sign that it was close, as the first Red Hartebeest babies made their appearance. They are super cute, since you notice the ears first and then the rest of the animal. Yesterday, there was a very rare visitor at the waterhole. At first I could not believe my eyes, and thought I was dreaming. It was a Fish Eagle, in the Kalahari!!! Obviously, these signs must mean something, as nature is always one step ahead of us.
On this high note, I shall end this newsletter, as the possible smell of rain is luring me outside, with the breeze setting an ever calming effect , while the Zebras, Kudu, Red-Hartebeest and Blue-Wildebeest are having a drink.
IT IS HAPPENING!!
IT IS STARTING TO RAIN A TINY BIT!!
THIS IS TRUE LOVE!!!
With lots of Deception Valley Love
Janie Swart