PLACE IN AFRICA…..
This is the place of struggle
Of desert plains and thorn trees

Where pathways end and hunters track game
Of horizons and frontiers
Where journeys start and sunsets bleed red
~ Wayne Visser – I know a place in Africa
Africa, Botswana, to be exact, unveiled her full potential and glory to us this past week. The Kalahari was blooming with surprises for our guests. Our journey started this week with a very special, but quite rare sighting. Knowledge, our guide, discovered 12 African Wild Dogs one afternoon safari just before a picturesque sunset. Our guests were thrilled. These amazing animals are on the Endangered Species List and therefore great joy settled over Deception Valley Lodge.
This gift was just the beginning. The next day during high tea, our guests had a show at the waterhole, while enjoying the beloved Carrot cake and Samoosas. The African Elephant decided they would like to join in and first had a drink at the waterhole, and then later, they wanted to be the center of attention. They came closer to settle for a drink at the swimming pool. We also saw some Kudus practicing ¨Flehmen Grimace¨. This is the behaviour the male uses, to test if a female is entering estrus. When the test is positive, he will approach her for mating. The Kudu has a gestation period of approximately 9 months, so we can expect youngsters again early next year.
One afternoon safari, the Kalahari granted us another blessing. After tracking the lions for several days, Knowledge found a pride of 9 Lions, including the cutest cubs. The cubs entertained our guests for a long ti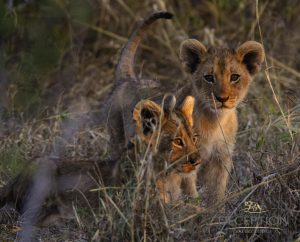 me, and afterwards we just had to share it with the world on Facebook and Instagram. It was truly a special experience. We can only wonder what shenanigans these little ones will get up to. For now, they are still a bit shy, yet very intrigued by the vehicle.
Excitement was shared around the dinner tables and fire, while guests dined in the company of a curios Honey Badger. A Serval also decided to make a rare appearance. Emily, our chef made sure o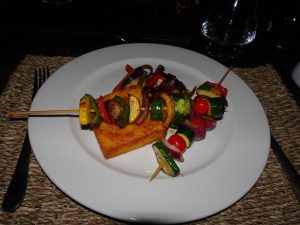 ur guests went to bed satisfied. We had several vegetarians this week, and she spoiled them with a delicious Lentil Cottage Pie and Vegetable Kebabs with Polenta slices. She will always make sure that you have a hearty meal regardless of any special dietary requirements.
To end this extraordinary week, Peter, our General Manager, sabered a champagne bottle with a wine glass for a special Birthday guest. This is a very special technique. She was enlightened and we wish her many more joyful years to come. Even the Elephants joined for the the celebration.
And on this high note, we say farewell to Autumn and are excited to see what June will bring us. Hope that everyone will have such a fabulous week like we had. If not, come and join us for an unforgettable experience.
Until next time.
Janie Swart
General Manager