It is all about Rosettes….
¨Empirical justice is the sword he wields,
a traveler of astral light; journeyman of
the stars…. – M.L Kiser about the Leopard¨
Our guests couldn't be more blessed. It all started with the celebration of World Painted Dog (More commonly known as the African Wilddog) day on 26 August. Even though we haven't seen these amazing creatures in a while, there were numerous other special sightings that made up for it.
First in line, was a day trip to our newly acquired property next to Deception Valley Lodge, which will become part of the Deception Valley Conservancy soon. Our guests were spoiled to extremely rare sightings such as the Bat-eared fox and Aardwolf during daytime. Absolutely unbelievable!!!
Then, all of a sudden, Spring was here, even though the Kalahari decided to t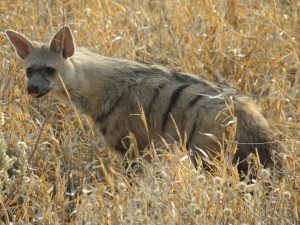 hrow one more very windy and cold spell our way. Still, the trees are flowering, and the Fiery-necked Nightjar has returned. The scent you get when the breeze blows towards you, is a feeling of love, regrowth and blossoming and then at night, comes the sweet, melodious call of the Nightjar, which just lulls you to sleep. It is the season to start living again!!
It is, as if the cold and the windy part, bought us more phenomena. This time in the form of rosettes, the term used for the markings on a Leopard. Yes, we saw Leopard twice in one week!!!
The first sighting was of a male, that killed a Kudu, which proofs that Leopards are cunning, opportunistic hunters. Their diet fluctuates with prey availability, which ranges from strong-scented carrion, reptiles and birds to mammals such as rodents, hares, warthogs and antelopes.
The second sighting was one of extreme rarity and magnificent behaviour, even though a bit unfortunate for the Leopard. Our guide, Dicks, was casually driving along one of the tracks. All of a sudden, he saw two lionesses about to cross the road. But, they saw something…. Ears were twitching in all directions and a direct stare into the near distance ,placed Dicks and his tracker on the alert. What could it be that captivate the lionesses interest so much?
Then, out of nowhere, a Le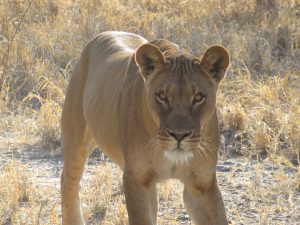 opard jumped up a tree, climbed to the top, with the lions in hot pursuit!! The poor leopard was stuck in the top of the tree, until the lions lost interest. This behaviour is called inter-specific competition, occurring between different species for the same resources. It is like William Shakespeare once said: ¨….wert thou a leopard, thou wert german to the lion….¨. Leopards know all to well, to stay out of reach of Lions, for the Lion will kill them.
At the lodge, renovations are going full steam. The new walkways for the entire lodge will be completed by the end of next week! Then, we will be starting with the upgrading of the chalets. We are also very proud to announce a new project that we took on this month. Deception Valley Lodge strives to keep our carbon footprint as little as possible. Plastic bottles are being abandoned, and we give single walled bottles as a gift to our guests and they fill up water from a main water cooler. Guests can then take their bottles home with them as a souvenir. They say a Leopard can´t change its spots, however, we absolutely can, for the better.
So, with Spring now giving way to warmer days, with the surroundings surrendering to regrowth of the new seas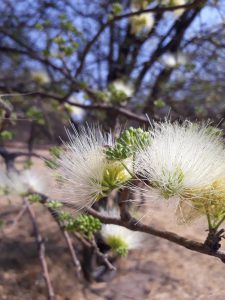 on, my question is in what way will you grow and change your spots this season? We all have different ambitions and it is our duty to ourselves to become empirical, determined and brave like the leopard!!!
Let us all blossom.
Till next time
Janie Swart
General Manager.